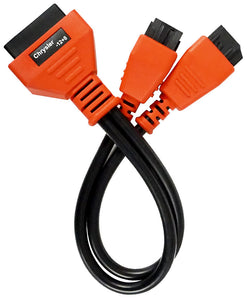 12+8 Adapter for FCA Chrysler Dodge Secure Gateway Module Bypass
Regular price
$35.00
$0.00
Unit price
per
The 12+8 Adapter is used to bypass FCA Vehicles Security Gateway Module (SGM) which limits an aftermarket scan tool to only reading DTCs and viewing data. 
Most 2018 and newer FCA vehicles include a Security Gateway Module.
If you don't use AutoAuth you can expect to see this message when scanning a Chrysler, Dodge, Jeep, Fiat, or Alfa vehicle with the Security Gateway Module:
DEVICE UNABLE TO COMMUNICATE WITH THE CONTROL UNIT
Placement of the SGM varies, but it is often located in the sidekick panel, passenger side near the glove box, or behind the radio. 
The 12+8 Adapter connects to the Autel MaxiSys VCI.
Adapter needed on:
20% of 2017 Chrysler products
50% of 2018 Chrysler products
90% of 2019 Chrysler products 
100% by 2020  
Only for customers who have purchased YOUCANIC full system scanner. If you purchase this adapter without the scanner, your order will be canceled. If you have purchased the scanner previously, use the same email address so that we can verify the purchase. 
---
Share this Product
Chrysler/Dodge 12+8 Adapter
I just received it yesterday so I have not been able to use it on anything yet, but it looks like a very well made piece.
---