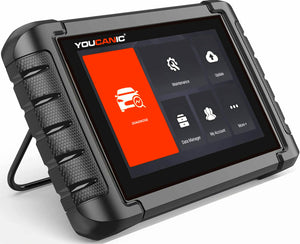 YOUCANIC UCAN-II Professional Full System OBD2 Diagnostic Scanner RENT (5 DAY)
Regular price
$85.00
$0.00
Unit price
per
Cost Break Down 
Overview
Read This First
If you're only looking to diagnose the check engine light, there's a chance you may not need to rent a scanner. Your local auto parts stores like AutoZone, Advance Auto Parts, or O'Reilly may have a scanner available for you to borrow, completely free of charge. Their scanners are designed to read and clear codes from Engine Control Unit (ECU) only that activate the check engine light. However, it's important to note that these scanners are limited to only reading and clearing codes from the engine system. They won't be able to diagnose issues with other vital systems like ABS, transmission, air conditioning, air suspension, airbags, traction control, TPMS, and more.

If you require a more comprehensive diagnosis that includes all vehicle systems, including those mentioned above, then the YOUCANIC full system scanner is a valuable tool to have. This scanner can analyze your vehicle's sensors and diagnose any issues with the different systems in your vehicle, including traction control, ABS, SRS, airbags, air conditioning, ESP, TPMS, ESC, stability control, sunroof, convertible top, and more. You can also use the YOUCANIC scanner to code injectors, bleed ABS brakes, bleed SBC, raise vehicles with air suspension, register a new battery, release electronic parking brakes, and more. 
➡️ Must Read 

To ensure the prompt shipment of the scanner, please remember to include the fully refundable security deposit at checkout. This security deposit will be added automatically to your cart at checkout. In case the security deposit is not showing up in your cart at checkout, you can click on the link provided below and add it to your cart before checking out. This deposit is fully refundable upon return of the scanner and ensures that the scanner is returned in the same condition it was shipped. If the security deposit is not included the order will be canceled. 

Rental Rules
5-Day Rental Period: Rental days are counted from the day the scanner is delivered to you until the day you ship it back. Shipping time is not included in the rental period.
Unlimited Vehicle Usage: Feel free to use the scanner on as many vehicles as you like during the rental period at no additional charge.
Security Deposit: A fully refundable $400 deposit is required and will be refunded in full, provided there is no physical damage to the scanner. The security deposit is automatically added at checkout. If not, we will send you a link to pay the security deposit before shipping the scanner.
Late Fees: A $10 fee will be charged for each day beyond the 5-day rental period. Any additional fees will be deducted from the security deposit. If you keep the scanner for more than ten days, please notify us, including if you decide to keep the scanner permanently. Contact us at support@youcanic.com.
Prepaid Return Shipping: To return the scanner, contact our support team, and we will email you a prepaid shipping label.
Scanner Features
YOUCANIC full system scanner fits the needs of repair shops and vehicle owners who don't want to visit the dealership whenever they need help diagnosing a car problem.

Bi-Directional: Equipped with Bi-directional control, the YOUCANIC scanner significantly reduces the diagnostic time and puts the power in your hands. 

Full System Diagnostics:

 

You will not have to purchase a separate scanner to diagnose all vehicle systems.
30 Reset Services: 

Comes with the most commonly used service reset functions.

Auto VIN: 

Auto-VIN technology quickly and directly obtains the vehicle's year, make and model. 



Live Data Record & Playback: Merge 

4 in 1

 live data in graph + In Single & Multi-graph Type

Diagnostic Report:

 

Save, share, and print the overall inspection report for further diagnostic analysis.
Online Feedback & Suggestions: Submit your issues in the diagnostic process and get YOUCANIC professional troubleshooting. Just visit the YOUCANIC > Support app, and our techs will be happy to help. 
Can I keep the scanner if I like it? 
Yes. If you find that the scanner meets your needs and would like to keep it, that's ok but please send an email to support@youcanic.com to let us know. 
Security Deposit + Rental Fee = Your Purchase Price
In other words, what you pay for the unit to rent gets applied toward the purchase price as long as you keep the unit that you are renting. If you would rather like a unit that has never been used, we recommend purchasing a new unit in the first place.  
Main Features Explained
Bidirectional Control/Active Test:

 

access vehicle-specific subsystems and send a command to perform specific tests and functions to test their working status, such as opening/closing the Sunroof, turning on the radiator fan, etc.

 

PS:

 

this function is newly released for free to greatly meet customers' demand, which brings this device unbeatable value. 
Rapid and Accurate diagnosis

 

for

 

all available control modules. YOUCANIC scanner is not limited to only four main systems (engine, airbag, ABS, and transmission), but it can diagnose as many as fifty control modules on a single vehicle. 

30+ Service Reset functions

 

enable you to

 

do your maintenance and reset. 

Supports all car makes. Our scanner can diagnose over

100+ car models. N

o need to pay for each car brand. All major car brands are supported. 

Legible and responsive 7" touch screen

: larger color screen offers better user experience and broad vision

Easy and Fast operation

 

with

 

WiFi

 

and

 

Android 9.0

 

operation system: intuitive menu and smooth interface make it simple for beginners, one-click wifi update saves your time and effort greatly.

Stable and Smooth Performance

 

with

 

32 GB memory and 4-core processor

: farewell to slow loading thus enjoy fast diagnosis.
Intuitive 4 in 1 Live Data Graph,

 

Rugged Rubber Grip, boot up in seconds

.
Our professional all-system diagnostic scanner performs fast and accurate diagnoses for all vehicle control modules, including but limited to ABS, SRS, Engine, Transmission, Brake System, Suspension System, Fuel system, Light system etc.
What's more, 30 service reset functions are supported, including oil reset, EPB reset, and SAS reset. YOUCANIC scanner can diagnose most problems in your car, and you don't have to spend $150 at your dealer just to read the codes.
YOUCANIC scanner is the most competitive choice for vehicle owners looking to skip taking the car to the mechanic. It offers bi-directional support, only available on professional and dealer-level scanners.
YOUCANIC scanner was designed to give power back to home mechanics, DIY car owners, advanced hobbyist mechanics, car repair garages, and workshops.

Featuring bi-directional control, the YOUCANIC scanner can read any ECU data and monitor the operation of the actuators. Through active tests, also called actuator tests, this bi-directional diagnostic scanner can precisely locate car problems, letting you quickly know whether a specific system, component or subsystem is functioning properly or not.
Vehicle Coverage 
YOUCANIC scanner supports almost 98% of the vehicles on the road today.  The vehicle must be 2000 and newer. 
The applicable vehicle makes include:
America:

 

Chrysler, Ford, GM, Dodge, Chevrolet

 

Europe:

 

Abarth, Alfa-Romeo, Audi, Aston Martin, Bentley, BMW, Bugatti, Citroen, Dacia, Ford EU, Fiat, Ferrari, Jaguar, Lancia, Land Rover, Lamborghini, Maserati, Maybach, Mercedes Benz, Mini, Opel, Peugeot, Renault, Rolls-Royce, Porsche, Saab, Samsung, Seat, Skoda, Smart, Vauxhall, Volvo, VW, VW_CV
Asia:

 

Acura, Daewoo, Daihatsu, Honda, Hyundai, Hyundai_CV, Infiniti, Isuzu, Kia, Lexus, Mazda, Mitsubishi, Nissan, Perodua, Proton, Ssang Yong, Scion, Subaru, Suzuki, Toyota.
China:

 

Baicmotor, brilbmw, Changan, fordchina, mazdachina.
Notice: For each vehicle make, there are several sub-models. The compatibility for each model will differ. Please confirm before the purchase.
Reset Functions
BMS: Reset a battery after you have replaced it.

Brake Bleed: Keep the tires from locking up immediately when there are brakes.
DPF: Help you clear the blockage in the DPF filter, to meet emission standards.
Immo Keys: This function is mainly used to disable the lost vehicle keys and create a new replacement key fob, to protect your car from being stolen.
Injector: Read injector-related problems and adjusts them.
SAS: Calibrating and resetting the steering position is just a click away.

 Injector coding, Suspension, Throttle, WIN DR ROOF, Seats, Odometer, Lang Change, Headlamp, change tire size, TEC Learn, and Trans Adaption are all available for certain models. 

Oil Light Reset: 

reset the Oil Life Reminder (turn off the Oil Service Light) when the replacement of engine oil is done in case of the impurities in oil may damage the engine. So vehicles can recalculate another optimal oil life change interval depending on the vehicle's driving conditions and climate. 

Crankshaft/Camshaft Relearn:

 

The crankshaft position sensor (CKP) is a magnetic induction sensor, the function of which is to determine the position of the crankshaft. It will help you know which cylinder piston is at the top dead center to determine the ignition time and detect the crankshaft's rotation angle (engine speed sensor). This function must be done after the engine has replaced the ECU and disassembled or replaced the timing belt assembly and crankshaft position sensor.

DPF Regeneration: 

(Diesel Particulate Filter Regeneration) lets you perform the forced regen cleaning to clear the blockage through continuous burning of the particulates captured in the DPF filter. When a regeneration cycle is completed, the D-P-F light automatically goes off.

EPB Reset: 

(Electronic Parking Brake Reset) This function can maintain the electronic braking system safely and effectively. The applications include deactivating and activating the brake control system, assisting with brake fluid control, opening and closing brake pads, setting brakes after disc or pad replacement, and so on.
Battery Registration:

 

Allows the scan tool to evaluate the battery charge state, monitor the close-circuit current, register the battery replacement, and activate the rest state of the vehicle.

SAS Calibration: 

(Steering Angle Sensor Calibration) Steering wheel angle sensor, a vehicle stability control system component, is mainly installed in the direction column below the steering wheel. It helps clear faulty steering angle sensor memories and plays an important role in steering angle sensor calibration.

Throttle Body Relearn: 

Throttle matching is to initialize the car's throttle actuators so that the learning value of the ECU returns to the initial state so as to more accurately control and adjust the throttle (or idle speed motor) action to regulate the intake of the amount. (

 

Kindly NOTICE:

 

it can not only

 

work on American cars

 

but also

 

support many foreign cars from Asia/Europe/China. The

 

menu is classified by different regions.

 

For honda, click "ASIA". For Audi, click "Europe".)

TPMS Reset: 

(Tire Pressure System Reset ) When the car tire pressure failure indicator light is on, low or leaking tire pressure is, replacement or installation of TPMS equipment, replacement of tires, damage to the tire pressure sensor, etc. need to do TPMS reset after maintenance.TPMS Service: Looks up the tire sensor IDs from the vehicle's ECU, and performs TPMS sensor relearn procedures after tire sensors are replaced.

Bidirectional / Active Tests
For example, Suppose an air suspension compressor is not working and leads to a lowered vehicle. In that case, the YOUCANIC scanner can activate the air suspension compressor to help you quickly determine whether it's a wiring, relay, or pump issue without removing any parts.

Here are a few examples of active tests which can help you test components, sensors, and switches:

Test air suspension compressor
Turn the a/c clutch on and off;
Switch the interior lights on and off;
Perform an evaporative emissions leak test;
Activate folding side mirrors, exterior mirrors
Test adaptive headlamp,
Test window regulators and motors. 

Activate the window up or down. 

Lock/unlock door

Turn on/off the radiator fan/interior & exterior lights

 Operate Mirrors/Fuel Injector Balance/ Injector Buzz Test Door Lock/Window/Horn/ Light/ Headlamp Test, etc
No Need to Be a Master Tech to Perform Like One
Are you an experienced DIYer or a professional mechanic in the area of automotive repairs? The YOUCANIC scan tool is affordable and within reach to effectively get advanced diagnostics done on modern cars.
The YOUCANIC OBD-II diagnostic tool is designed to:
Works on any vehicle from 2000 to the present. May work on older vehicles up to 1996. Contact us to verify. 

Read and clear codes from ALL vehicle systems. 

Retrieve ECU information of the tested control units, including unit type, version numbers, other specifications, etc.

View Live Data of each parameter item.

Carry bidirectional testing of components. 
Reset various functions. 
Activations / Acuations 
YOUCANIC scanner has a wider coverage of more than 100 car makes. It supports cars, SUVs, light trucks, and 12V diesel. 
FAQ
Why do I have to pay for this? A local auto parts store will diagnose my car for free. 
Scanners used by local auto parts stores such as Advance and AutoZone are not full system professional level scanners. Those scanners will diagnose your Engine Control Unit (ECU). That is only one of your car's possible thirty or more control units. So if you have problems with airbags, transmission, climate control, ABS, blind spot system, etc., the local auto parts scanner will not help. 
Can I use the scanner in more than one car? 
Yes. Use it in as many cars as possible In fact; we want you to help your friends, family, and neighbors while you have the scanner. 
Why should I not take my car to the dealer? 
You can if you have the time and want to pay twice as much. Most dealerships will charge a full-hour rate; during that time, they do all they do is read and look at the codes. That's pretty standard.  We also have a youcanic.com/support platform where our ASE-certified mechanics give you feedback on your codes. It's free to use. Just take a few pics of the codes and post them up to get help. 
Can I diagnose my car? I have never used a scanner before.
We will diagnose one car free of charge. Once you get the scanner, we can remotely connect to the vehicle and do a full scan and health check. Please contact us to set up a time when a technician can remotely connect to the vehicle. 
Need More Help?
For help with the rental process, please email: support@youcanic.com
For help with the fault codes and car issues, do the following.  Once you get the scanner, run a full system scan and get codes from your car. Take a few pictures and post them on our support platform. Our team of ASE-certified mechanics and techs is here to help. https://www.youcanic.com/support
---
Share this Product
Youcanic bliss
I rented the scanner to troubleshoot my 2012 Mercedes GL550, no start problem. I was skeptical until I tried it. I was able view the real-time data as I turned to key in the ISM, which showed me that the ISM was not sending the signal to the start relay to allow it to start. I was able to repair the ISM, that had a broken connector and was able to see the signal from the ISM to the relay. The car still wouldn't start, so I went further, and found that the starter was also bad. I was very pleased to save a bunch of money, even with the rental fee,taken into consideration.
The only thing I had an issue with was the fact that the scanner wasn't able to test the starter, which I had to remove and het tested. I liked it so much that I bought one, with no hesitation. Even woth the purchase price plus the rental fee, it was much cheaper than letting the Dealer/Stealer fix the problems. Lol
Great Deal
Great deal to rent a super easy scanner for those pesky modules. I used mine on Volvo's SRS module and it worked great. Wish you could use its email functionality to send yourself diagnostics, and returning the rental should be an easier process (shouldnt have to email to get the label). But otherwise, a great deal.
Ucan-2 scanner rental
I highly recommend this to the home mechanic. I had a few issues to sort out on my 08 volvo and this was the way to finish out my work.
I set the transmission to learn, recalibrate the ac system, sorted out my haldex AWD, got rid of my airbag warning, and cleared up a traction control issue.
Plus cleared out old codes from over the years.
It's easy to use and was in new condition.
The company is easy to work with also.
No issues with renting.
The whole process went very smoothly from beginning to end. Before renting I asked if the tool could do what I needed to and tech support confirmed it could. Renting was straightforward and the tool was easy enough to use. Did not need to schedule a remote tech support session. Once I was done with the tool I emailed them asking for a return label which was they promptly emailed me. Got my refund when they received their tool back. 10 out of 10 would rent from them again.
Scan tool rental
Received tool as promised, worked great, helped me figure out my cars problem with ease
Lifesaver!
This tool and service is a lifesaver! Rental was quick and easy. Worked so well I bought it!
Scanner rental
The rental process and scanner itself, were both easy to navigate. I highly recommend these guys to save some serious money.
Awesome product glad you have this
DON'T WASTE YOUR TIME USE YOUCANIC
One of my cars is a 2010 Mercedes S400 and have used YOUCANIC in the past.
YOUCANIC sent me a remote diagnostic scanner (for a small fee) and it took less than 2 minutes to hook up. They were able remotely to tell me I needed a new adjustable strut and there were no other problems. I saved a trip to the Mercedes dealership and probably $125-$150 in cost. Also, they recommended the adjustable strut to buy (comes with lifetime warranty). I called the Mercedes dealership and was told the strut cost $1,400 ( no lifetime warranty) and $800 to install. I bought the strut recommend by Youcanic (lifetime warranty) for $475 and paid $300 to install.
The Youcanic remote diagnostic scanner works for any vehicle sold in USA.
Saved me time and money
Rented the scanner. It arrived in 3 days. Was able to read the codes and YOUCANIC team even provided feedback on those fault codes. The problem ened up being the ABS wheel speed sensor at the front right. Shipped the scanner back and got my deposit back. Saved some money compared to going to the dealer.
---